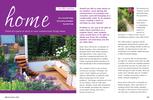 Print Design
I have over fourteen years of experience in the industry. I love color, playing with type and creating fresh and innovative designs. As well as an artistic ability, I have the technical expertise; I am very knowledgeable in pre-press and offset printing techniques. I am able to quickly establish a rapport with individuals of all personalities, analyze their needs and develop appropriate materials within the project scope and budget.

Greeting Cards and Invitations
Here are some of my hand made and digital greetings cards, invitations and more by my company 'tina ballina designs'.
I also design custom wedding invitations, birth announcements, shower invitations and more. Please take a look and if you find a design you like, please contact me and I will add your information to personalize the invitation for your own special event.

Direct Mail
These items were created for various clients at Quadriga Art, a large direct mail advertising company in New York City. Many of the clients that I produced work for are in France, Italy, Australia, United Kingdom, Germany and Spain. These clients are represented by a dozen or so large international agencies that I worked very closely with. Some of the clients included: SPCA, UNICEF, CARE, Habitat for Humanity, Save the Children and more.